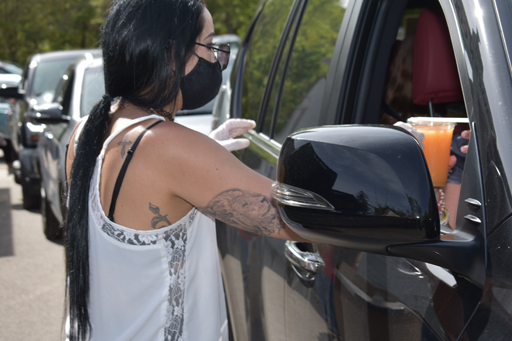 Prior to the mandated closing of restaurants across the state, Coach Meeting House had only been open for three days. Owner Rustan Lundstrum had to quickly adapt to the circumstances – first by creating a takeout menu and focusing on to-go and curbside orders. More recently, however, he made the brilliant decision to become New York's first and only spiked slushie drive-thru bar.
Under a canopy of beautiful blue skies, we experienced some of their delicious frozen concoctions. With creative flavors like Blood Orange Margarita, F.I. Rocket Fuel, Wet Willie's "Call a Cab", Jack Daniels Peach Tea, and Virgin Frapple, it's no wonder business is booming.
Waitresses donned in masks and gloves took orders from the bustling line-up of vehicles and walk-ups to the delight of loyal clientele and first-time patrons alike – all the while, maintaining social distancing.
You can visit Coach Meeting House's website by clicking here.