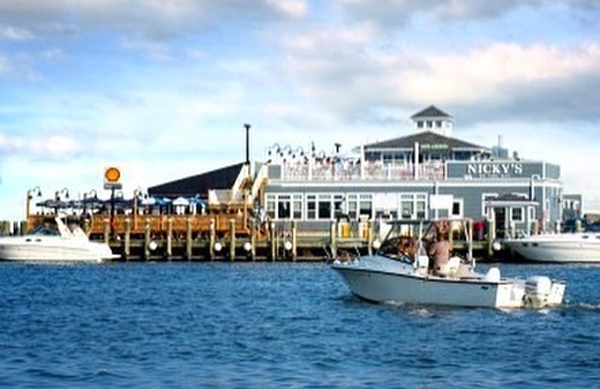 Visit Nicky's on the Bay and you'll be surrounded by the beautiful water views of the Great South Bay and Bay Shore Marina while you dine on any one of their burgers, salads, Italian entrees or seafood specialties. Enjoy a live lobster from their tank, or taste the freshest fish brought in from local fisherman.
At Nicky's seafood is abundant, From a full course dinner of the Fresh Catch of the Day, Lobster, Soft Shell Crab, Clams on the 1/2 Shell, Oysters on the 1/2 Shell, Linguine with Clam Sauce, to Seafood Au Gratin to name a few.

It's like being on vacation when visiting as it's the perfect place to stop by before or after your day on the bay. Hang out for a perfect end to a perfect day and enjoy their famous sunset view!
Pull your boat up to Nicky's and fill up on some gas, too! They have added even more boat docking with a 100′ floating dock. Their friendly attendants will have you on your way in no time. Whether you captain a Hatteras Sport Fisherman or a 17 foot Mako, the gas dock will fill all your needs.
150 S Clinton Ave
Bay Shore, NY 11706
631.206.3311