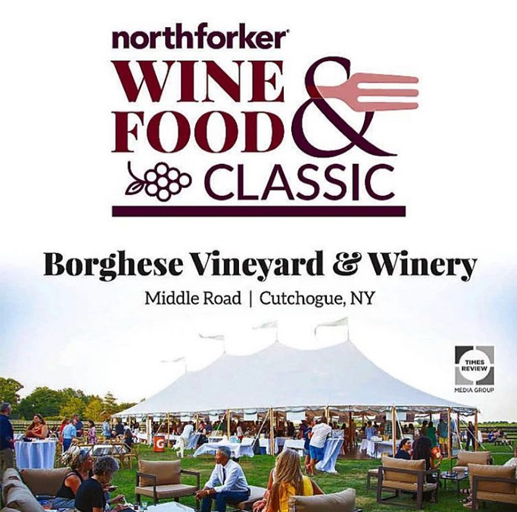 A local food and wine tasting event showcasing 40+ farm to table restaurants, vineyards, breweries, and more is being held on Thursday, August 31st at Borghese Vineyard & Winery!
Restaurants on board are Oysterponds Shellfish Company, The Dimon Estate, Meats Meat, The Treatery, North Fork Chocolate Company, Piesans Pizza, Insatiable Eats, North Fork Flour Shoppe, The Catered Fork, The Halyard, Peconic Landing, Justins Chop Shop, Cuisine By Colleen, Lucharitos, Disset (VIP), Grace & Grit, Jedediah Hawkins, Balo Foods, Green Hill and the Village Cheese Shop.
Breweries that are participating this year include: Greenport Brewery, Kidd Squid Brewing Co., Take Two Brewery, Twin Fork Beer Co., Ubergeek, WHB Brewery and Jamesport Farm Brewery.
Vineyards that are participating this year include: Borghese, Chronicle Wines, Jamesport, Macari, Palmer Vineyards, Paumanok Vineyards, Pellegrini, Poppy & Rose, Pugliese Vineyards, Sannino, Single Married Divorced, Rose Hill, Bedell and Lenz.