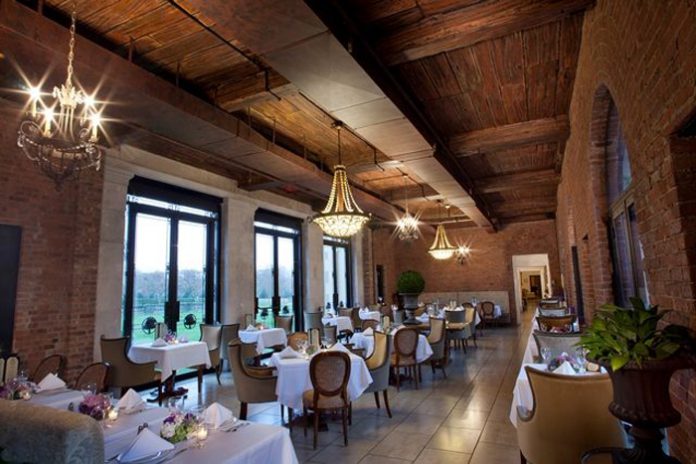 Oheka rests majestically on the highest point of Long Island, and emanates the elegant refinement of a chateaux in France coupled with world-class service and a rich history that is distinctly American. OHEKA has been celebrating the art of entertaining since 1919, when financier and patron of the arts, Otto Hermann Kahn hosted many a lavish party.
When warm creamy Gorgonzola sauce over lightly toasted Tuscan bread was placed on our table we knew our royal culinary journey was off to a great start.These hardy pieces of crusty artisanal bread were brushed with extra virgin olive oil and a touch of butter, then topped with a sweet Gorgonzola cream sauce and sliced fresh scallions. It was surprisingly delightful with an enticing Gorgonzola flavor and nice texture.
Among starters, the artfully plated Burrata Mozzarella – accompanied by a baby green salad with red and orange grape tomatoes, marinated olives, and roasted red peppers – was lightly dressed and perfectly balanced with an assertive pesto and a sweet balsamic glaze that teased our taste buds while the pencil thin gristini bread sticks provided the requisite crunch.
Departing from the ordinary, the Crab Cake, impressive in stature and nestled snuggly in a bed of sesame scented greens, was tender and moist while delicately seasoned and perfectly cooked. A wonderful aroma of Asian and Mediterranean scents rose from the subtle and well balanced sweet soy and chipotle aioli sauces.
Another appetizer to make the grade was the beautifully presented Shrimp Tempura with a delicate crispness which gave way to tender succulent shrimp.
An enticing assortment of perfectly tender seafood, the Cioppino boasted Bay scallops, calamari, lobster, shrimp, Chilean sea bass, and mussels in a rich silky, yet tart saffron infused tomato broth. Served in an oversized bowl with delicate herbs and crusty garlic crostini, this was the perfect dish for one persons hearty appetite or as a shared appetizer.
A nicely spice rubbed Cedar Plank Wild Salmon and Shrimp offering was moist and flavorful with comforting accompaniments such as black bean salsa, baby carrots and string beans, paired bravely with boiled white rice which allowed the jalapeno cream sauce to take center stage.
The perfectly seasoned and fabulously charred 16oz Angus NY Strip Steak was served with addicting Russet potato steakhouse wedges and Port wine shallots in a fine Bourbon reduction.
The Pistachio Crusted Lamb Chops delighted with two 6oz valley farms porterhouse chops, an excellent pistachio crust, seasoned potato medallions
and sautéed kale.
Adobo Crusted Duroc Pork Tenderloins with saffron infused Spanish rice, grilled beans, avocado, fresh jalapeno salsa and warm tortillas invoked a southwest influenced sensation.
A house made French Country Apple Tart a la mode was simply classic yet elegant with semi sweet apple filling, flaky puff pastry and vanilla ice cream in every perfect bite. Their simply incredible house-made Profiteroles with bavarian cream were absolutely divine.
Whether your a hotel guest or restaurant patron, you can enjoy and appreciate the historic architecture, wine and dine in European ambience, stroll the formal gardens, or celebrate lavishly as Otto Kahn once did during the decadent era of the Roaring Twenties.
Overall Rating: Exceptional

Cuisine: American

Ambiance & Décor:Elegant & Inviting

Prices: $30 – $50

Website: Oheka
135 West Gate Drive
Huntington, 11743
631.659.1400