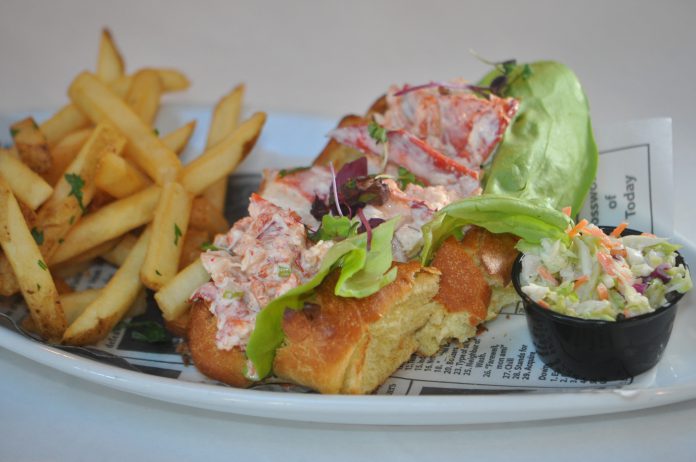 Anchor down is a fabulous spot to enjoy incredibly fresh seafood in a relaxed and casual setting. In fact, the cozy and intimate indoor dining room allows the glistening sunlight to pierce through the room creating a bright and lively atmosphere.
Although the restaurant itself was petite the cuisine was definitely Grande. Their tuna poke was tender, soy and ginger marinated tuna mixed with a creamy avocado spread that blended together to create a beautifully plated "tower". This dish was served with crispy, fried wonton crackers that can be used to scoop up the tuna and create a most satisfying contrast of texture that crunched and crumbled with each bite.
Their pan seared jumbo crab cake was delicious and served with a thick homemade Ramoulade sauce which was made with classic old bay seasoning. The meaty crab cake was perfectly cooked with a crisp sear on each side while the middle was filled with an abundance of soft and flaky crabmeat, seasoning, and a touch of celery. The creamy ramoulade sauce complemented the flavor and textures from the over-sized crab cake which could easily be shared.
Another delicious appetizer was the fried Atlantic Cod tacos served with pink pickled onion, a hearty slice of avocado and a black bean and corn salsa all mixed together in a warm tortilla. The delicate fish was coated with a thick, crunchy breading that added the perfect salinity and flavor to the taco. The cilantro lime Aioli provided a slight touch of heat to the dish taking it to the next level.
We then moved onto an abundantly stuffed lobster roll served on a brioche bun with freshly seasoned crisp french fries. The thick, plump pieces of sweet lobster were nicely seasoned and went perfectly with the toasted brioche bun which of course had a slight sweetness as well. Between the juicy pieces of lobster and the subtle crispness from the bread, this dish was delectable and packed with robust flavors.
The last entrée was the red snapper which was a special and indeed was quite special. A soft and buttery piece of fish laid on top of zucchini linguine bathing in a flavorful white wine and garlic broth. The snapper was flakey and supple but had a crisp skin that added texture which worked wonderfully when paired with the lemon garlic flavored linguine.
Overall Rating: Exceptional

Cuisine: American Seafood

Ambiance & Décor:Cozy & Intimate / Nautical

Prices: $10 – $30

Website: Anchor Down
1960 Bayberry Ave
Merrick, 11566
516.544.4334