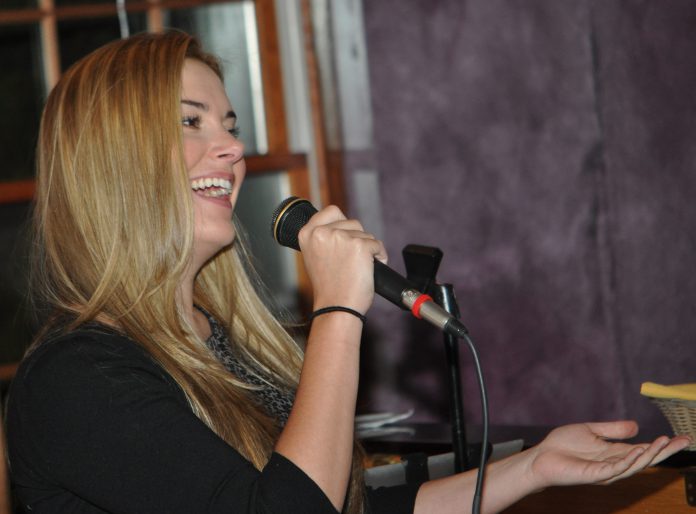 Guy Anthony's is a quaint little restaurant with eye-catching purple awnings and wrap around windows overlooking a bustling Jerusalem Avenue. As soon as you enter, you are instantly welcomed with a smile from the waitstaff and courteously seated. After taking our seats, we immediately noticed the dedication to the color purple throughout the building that effortlessly succeeds in creating a charming first impression.
Guy Anthony's Bistro & Catering has been heartily serving customers for over seventeen years. Restaurateur Guy Bolognese and Executive Chef Anthony "AJ" Orlich, co-own and operate the restaurant with a hands-on approach and a tireless attention to detail. We got a chance to see these two in action, with Guy concocting libations at the bar and AJ in all his glory creating culinary sensations in the kitchen.
Wonderful aromas from the open kitchen heightened our senses and made us anxious for our culinary escapade to begin. Bill, our waiter, graciously took our orders as we could not help but take in the splendor of this establishment. The unique purple and yellow hues with an eclectic collection of mirrors and large windows created an airy ambience that made us feel relaxed and comfortable. To complete this feeling of leisure & luxury, a pianist began to play contemporary and classic favorites.
While enjoying the sounds of live music and the view of the open kitchen, Bill served us our first appetizer, the Warm Beet Salad with bacon, walnuts, and creamy goat cheese over mixed greens with a light citrus vinaigrette. The highlight of this classic salad was the fresh beets with subtle hints of bacon making it a perfect appetizer and also a great dish for the health conscious.
After teasing our palates with salad, we then experienced an appetizer from the Bar Fare, a new feature to the Guy Anthony's menu. The Meatball Slider served with fresh mozzarella and a side of penne with pesto sauce and basil, is exactly what you would look for in bar cuisine. This generously portioned meatball created with a trifecta of pork, veal, and sirloin covered in a sweet marinara sauce was well balanced with soft potato bread. The pasta was perfectly al dente with a good taste of cheese and basil. This appetizer caters to the sophisticated bar crowd and would go great with any libation.
The aromas continued to waft from the kitchen, making us anxious for our next dish. To our utter delight we were served our first entree, the Blackened Tilapia with homemade coleslaw and sweet potato fries. The perfectly cooked tender Tilapia had a moderate amount of heat and a nice sense of char with the refreshing coleslaw underneath. The sweet potato fries were cooked to perfection and salted just right, creating a delicious plate of food.
The next entree to tickle our fancy was the Cannelloni Pasta with broccoli rabe covered with white beans topped with goat cheese in a pomodoro sauce. This is a favorite on the specials at Guy Anthony's and it is easy to see why! The Cannelloni provides the much anticipated warmth and taste of the dish with the sweet basil infused sauce. This authentic Italian pasta is hearty comfort food at its finest with a perfect balance of salty and sweet flavors.
As we were reveling in our cuisine, the pianist was joined by a lovely companion with a beautiful voice. Her melodious music almost distracted us from the appearance of our next mouth-watering entree the Chicken Scallopini. This genuine interpretation of a familial Italian classic was a combination of chicken and sausage, red and green peppers, roasted potatoes and pepperoncini married harmoniously together in a vinegar Scampi sauce. It was presented to us on what looked like grandma's fine Sunday china and we were all in agreement, the home-style presentation adds to the appeal of this dish.
We then headed down the rest of our Italian journey with a helping of Lobster Ravioli adorned with two succulent shrimp atop spinach in a silky Beurre blanc sauce. We delighted in every note of shallot, wine, and lemon in this extremely flavorful dish and felt satisfied with the taste of lobster morsels provided in every bite.
Our final entree and perhaps our favorite, was the fork tender Chicken Diablo with cherry peppers and a side of pasta in a rich, luxurious sauce. We expected a fiery rendition of this popular dish, but were delighted to find a fantastic medley of flavors with curiously smoky undertones. The cherry pepper had a wonderful bite, that was just right for anyone's taste buds. This is a must-have dish for anyone.
Just when we thought the night couldn't get any better, our friendly server brought over two decadent desserts. The Fruit Trifle was a sweet compote of fresh blueberries, peaches, and strawberries with moist cake, vanilla bean ice cream, and whipped cream that reminded us that there is always room for dessert. This show stopper was the epitome of heavenly bliss as each ingredient melted in your mouth. The other dessert that vied for our attention was the traditional Cannoli. Guy Anthony's interpretation of this Italian classic was filled with a smooth bakery shop sweet cream and chocolate chips that instantly curbed that Cannoli craving.
Guy Anthony's is a perfect place for anyone looking for relaxing atmosphere, elegant dining, and contemporary Italian cuisine at reasonable prices. This charming restaurant invites you to enjoy the sights and smells of the open kitchen, the spacious and calming feel of the large windows, and the fabulous live music that plays in the background.
Overall Rating: Excellent

Cuisine: Contemporary Italian

Ambiance & Décor:Casual & Elegant

Prices:Dinner $10 – $30
Website: Guy Anthony's
2208 Jerusalem Avenue
Merrick, NY 11566
631.221.5555