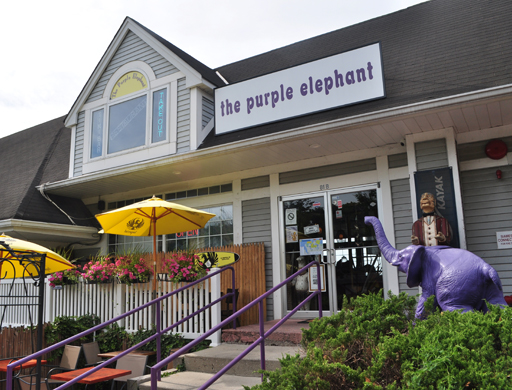 A quaint and quirky restaurant nestled aside one of the many winding roads of Northport serves an array of vegan, gluten-free and some non-vegan dishes. The Purple Elephant is all about enjoying healthy yet delicious foods that caters to anyone from the finicky vegans to the meat lovers and everyone in between. The restaurant is humbly inviting with help from its tropical beach decor and vintage rock and roll posters that seem to create a unique and fun setting.
We started with one of the most popular appetizers called Thai Elephant wings which was a take on chicken wings-hold the chicken. The "wing" part was actually hearty pieces of fresh cauliflower flash fried in a delicate breading that crumbled with each bite giving a slight crunch to the tender vegetable inside. The thick peanut sauce on top gave off a sweet and savory flavor with hints of ginger and a mild spice that generously coated each "wing".
Next, we enjoyed a beautifully plated mountain of garlic and herb seasoned sautéed kale and crunchy, bright green Brussels sprouts that came together as a warm salad. The dish was drizzled with an intriguing hot pink colored beet dressing that brought a slight sweetness to the salted veggies while bacon-like crumbles of tempeh gave a familiar smokiness.
Our first entrée was a large and wholesome plate of steamed veggies, Spanish style rice and beans, blocks of spongy tofu and soft pan seared plantains all coming together to create the Casado Platter. The dish was clean and simple in terms of flavor because of the subtle taste of garlic, salt and pepper but in terms of texture, the dish really seemed to shine. There was an enjoyable crunch to the fresh broccoli, zucchini and bean sprouts while the plantains were velvety and smooth which resulted in a wonderfully healthy and delicious vegan entrée.
Our last entrée was named Proper Whopper as it was a vegan approach to the classic fast food hamburger. However, this one was much healthier and looked even more appetizing with its two slices of thick whole wheat ciabatta bread holding together two juicy vegan patties, unmistakable cheddar flavored vegan cheese that oozed out of the sides of the burger and a rich and creamy mayo-like sauce that the spongy bread soaked up. The burger came with Yucca fries which looked similar to regular French fries but instead had a slight sweetness and an airy texture.
To go along with this abundance of vegan goodness were a few specialty drinks- the first being named Picante Elefante which is an all natural Bloody Mary made with Costa Rican Imperial beer instead of the traditional vodka. Don't let the adorable name fool you, this drink offered a real kick from the Sriracha and Jalapenos infused inside. This Bloody Mary was generously seasoned with salt, pepper, and lemon but also had a light carbonation from the beer that made the flavors and textures a little different from your typical Bloody Mary.
Next we tried the a refreshing Violet Mint Julip that was a gorgeous blend of plum sake, pressed all natural mojito mix and a bit of seltzer garnished with fresh sprigs of mint poking out of the top. The drink tasted similar to a classic mojito but with a little sweetness and citrus as well. The seltzer really helped to even out the flavors and add some bubbles making a perfect summer time cocktail.
Lastly, we sipped on the Sedona on the rocks which immediately caught our attention by its pretty pink color. The drink was a mixture of Los Cabos agave wine and Prickly Pear which is an Arizona cactus fruit. We enjoyed the smoothness of the drink and the similarity it had to a margarita because of the agave wine giving off a gentle citrus flavor mixed with a nice sweetness.
Overall Rating: Exceptional

Cuisine: Vegan & Gluten Free

Ambiance & Décor: Casual

Prices: $10 – $30

Website: The Purple Elephant
81b Fort Salonga Rd West
(In Britannia Yachting Center)
631.651.5002