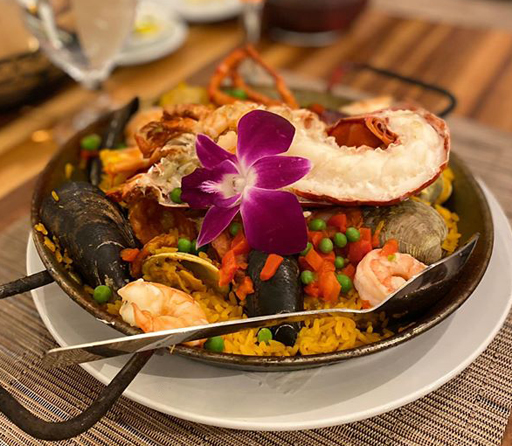 Sangria 71, the brainchild of Rosendo and Jose Fernández, is home to Long Island's most authentic Spanish cuisine. With locations in Williston Park, Commack and now Island Park, Sangria 71 is a family style restaurant specializing in the Flavors of Spain by offering a fine assortment of tapas, steaks, chicken, seafood as well as savory family style paellas, superb sangrias and a fine selection of Spanish wines – all of which is available to go. Sangria 71 now has takeout & delivery available from 3-8pm.
To give you a little background, Rosendo and Jose were born on a farm in the coastal province of Galicia, Spain and spent their early years surrounded by fresh produce, farm-raised animals, and the simple, yet flavorful cooking of their mother, Sofia. As boys, they learned how to make delicious chorizo with their grandparents, played in sweet-smelling cornfields, and stomped on grapes during the wine harvest. It is these early childhood moments and memories that resulted in a lifelong devotion to bringing together food, family and friends.
In 1978, Rosendo and Jose immigrated to the United States at the ages of 5 and 6. When their father, Rosendo Sr., became the chef at El Rincon De España in Greenwich Village, the two started spending their weekends there, helping out around the kitchen and the dining room. Rosendo eventually went to work at the popular Café Español, located in the heart of Greenwich Village in 1976.
In 2003, Rosendo took over the helm of Café Español's second location on Carmine Street. He followed that up with the opening of Bamboleo, a lively Mexican restaurant, which is located on the corner of Bleecker and Sullivan streets in New York City. Jose satisfied his culinary desires by smoking his own chorizos at home, making his own wine and cooking delicious dishes for his friends and loved ones.
In 2010, Jose and Rosendo partnered up to introduce Paella To Go NYC, cooking and selling fresh paellas on the spot at NYC street festivals to thousands of hungry, satisfied customers. This fast and casual approach to making paellas, tortillas, empanadas as well as other Spanish staples was an instant success for the brothers and it was the first Spanish Paella concept in the history of Little Italy's annual Feast of San Gennaro.
Three years later, Jose and Rosendo realized their dream of opening a Spanish restaurant close to the Queens neighborhood where they grew up and near the Long Island area where they currently reside. That dream is Sangria 71, a new restaurant concept serving savory meals and tasty drinks to guests craving culinary delights, seeking good times or celebrating momentous occasions.
Island Park Location:
4585 Austin Blvd
Island Park, NY 11558
516.882.4250 / 516.882.4252
Williston Park Location:
71 Hillside Avenue
Williston Park, NY 11596
516.246.9778
Commack Location:
1095 Jericho Turnpike
Commack, NY 11725
631.670.7606 / 631.670.7607