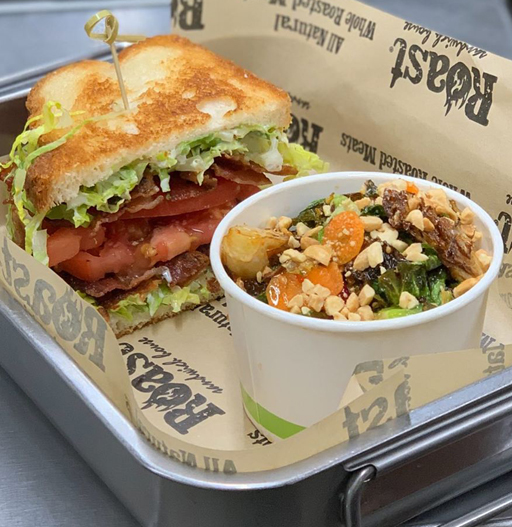 Roast Sandwich Shop has been taking Long Island by storm with their belief that a great sandwich starts with all-natural whole roasted meats cooked in-house daily, fresh produce and served on hand crafted artisan bread.
Their chefs' passion to create the best sandwiches, soups, salads and sides on Long Island with whole-roasted meats and fresh ingredients sparked the opening of Roast Sandwich House in Melville, NY in 2010. In 2016, they opened their second sandwich restaurant in Hicksville to critical acclaim.
All of their sandwiches, soups, salads, sides are prepared fresh and made-to-order. They truly cook everything with heart and soul and it shows. You can enjoy the Roast Experience with chef inspired daily specials served Tuesday – Friday. What's more, in this new found era of take-out and delivery, they are an excellent source of delicious and nutritious meals with a taste for every palate.
Roast Sandwich House owner Paul Doyle is a very conscientious steward of the community. As a matter of fact, he is raising money to feed NYU Langone Hospital staff effected by the virus as well elderly community members stuck at home.

More information about NYU Langone Hospitals (NYU Langone Health): Some of the best minds in healthcare, a worldwide reputation for excellence, outstanding resources and a talented staff come together at Tisch Hospital, Rusk Institute of Rehabilitation Medicine, NYU Hospital for Joint Diseases and NYU School of Medicine. Together, they are New York University Medical Center – an institution consistently cited as one of America's Best Hospitals by U.S. News & World Report.

Remember any donation will help make an impact. Click Here To Donate
Melville Location
827 Walt Whitman Road,
Melville, NY 11747
631-629-4869
Hicksville Location
1040 South Broadway,
Hicksville, NY 11801
516-261-9376
Mineola Location
100 Main Street,
Mineola, NY 11501
516-747-0717