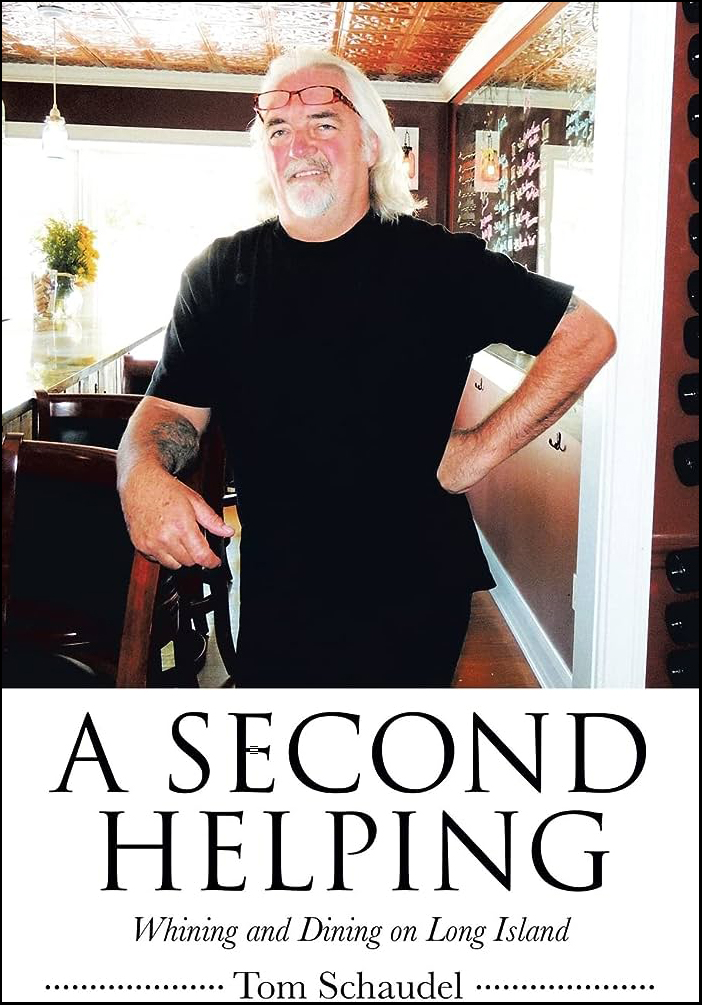 A Second Helping: Whining and Dinning on Long Island
By Tom Schaudel
A Second Helping: Whining and Dining on Long Island picks up where Tom Schaudel's first book, Playing With Fire, left off as a playful romp through the crazy world of restaurants, dining rooms, and professional kitchens. Filled with short stories of neurotic customers, stressed out servers, crazed cooks, and the undeniably unhinged, his unique and humorous observations will have you wondering how the expression, "The customer is always right," ever came to be. Looking back through a fifty-year restaurant career, Tom has assembled a cast of characters that would be the envy of fiction writers everywhere. In this book, you will meet an f-bombing octogenarian, a D-level celebrity asking for separate checks at her wedding, an aspiring counterfeiter with a seriously flawed gift certificate, the nine-year-old antichrist, and a woman who flushed a six-carat diamond ring down a toilet bowl. This latest collection is guaranteed to make you stay up late and laugh out loud and is a must read for anyone who has ever eaten in a restaurant, worked in a restaurant, asked to use the restroom in a restaurant or, God forbid, dreamed of owning a restaurant.
Click here for more information and to order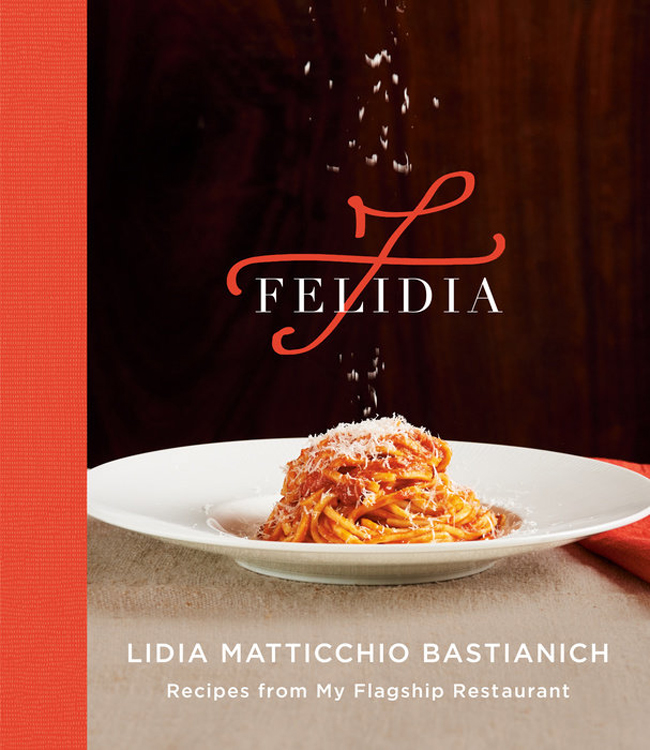 Felidia
By Lidia Matticchio Bastianich
Beloved chef and best-selling author Lidia Bastianich shares, for the first time, the timeless recipes that have made her flagship restaurant, Felidia, a New York City dining legend for almost four decades.
Ever since it opened its doors on Manhattan's Upper East Side in 1981, Felidia has been revered as one of the best Italian restaurants in the country. In these pages, Lidia and longtime Executive Chef Fortunato Nicotra share 115 of the recipes that capture the spirit of the Felidia menu past and present. From pastas and primi to appetizers and meats, and from breads and spreads to sides and soups, these are some of Lidia's absolute favorite dishes, lovingly adapted for home cooks to re-create in their own kitchens.
Here are recipes for old-school classics such as Pasta Primavera and Linguine with White Clam Sauce and Broccoli. Contemporary favorites include Pear and Pecorino Ravioli, Chicken Pizzaiola, Short Ribs Braised in Barolo, and Eggplant Flan with Tomato Coulis. Exquisite dessert recipes include Warm Nutella Flan, Open Cannolo and Limoncello Tiramisù, while Passion Fruit Spritz and Frozen Peach Bellini come from the restaurant's lively bar. Felidia is a beautifully illustrated, full-color cookbook that takes readers behind the scenes of the restaurant's storied history and is filled with the same warmth and hospitality that are the hallmark of all of Lidia's cookbooks. It's the next-best thing to enjoying an evening out at this award-winning eatery!
Click here for more information and to order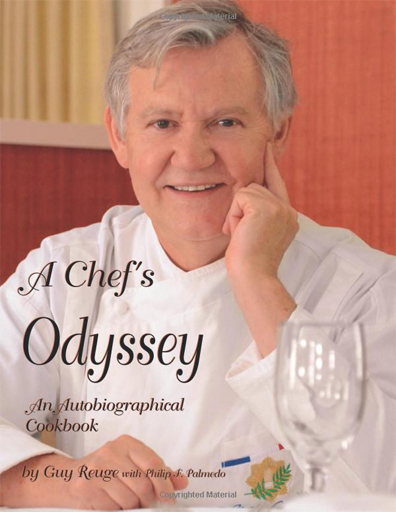 A Chef's Odyssey
An Autobiographical Cookbook
By Guy Reuge
Growing up in the lush Loire Valley of France, a young Guy Reuge became curious about the wonderful smells and tastes coming from his mother's kitchen. At the age of fourteen, his curiosity led him to begin a three-year culinary apprenticeship in a neighboring town. Then, after a year of compulsory military duty as personal chef to the director of the École Polytechnique in Paris, twenty-one-year-old Guy – who could barely speak English – traveled to New York and quickly rose up the culinary ranks to serve presidents and celebrities and everyday dining guests whether in a restaurant setting, a private residence or on a yacht. In this engaging memoir, join Guy as he explores all that the culinary world has to offer a passionate and committed chef. A Chef's Odyssey will take you on an insider's tour of restaurants with all their attendant challenges, accomplishments, jealousies and intrigues. And as you read, savor the many personal recipes he shares from around the world and from his own kitchens.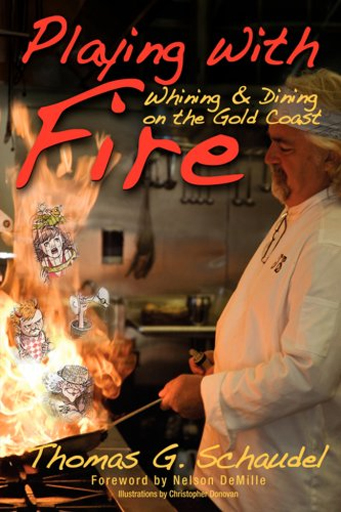 Tom Schaudel Playing With Fire: Whining & Dining on the Gold Coast
Playing With Fire: Whining & Dining on the Gold Coast is a voyeur's peek into the crazy world of the restaurant culture. Filled with vignettes of difficult customers, stressed-out cooks, harried wait staff, and the truly disturbed, this book takes an affectionate romp through Tom Schaudel's restaurants to introduce you to the most memorable cast of characters he's experienced in his forty years in the business. You'll meet a ninety-year old-woman who happens to be a serial "bird-flipper," a woman trying to drag a twenty-foot Christmas tree out the front door undetected, an elderly gentleman walking out with an 8.5″ x 15″ metal clipboard menu holder stuffed down his pants, and a woman who got drunk, passed out, got revived, and aced an intervention, all in under twenty minutes. An absolute must read for "foodies," these stories and the many others will provide pure entertainment and lots of laughs for a long, long time to come.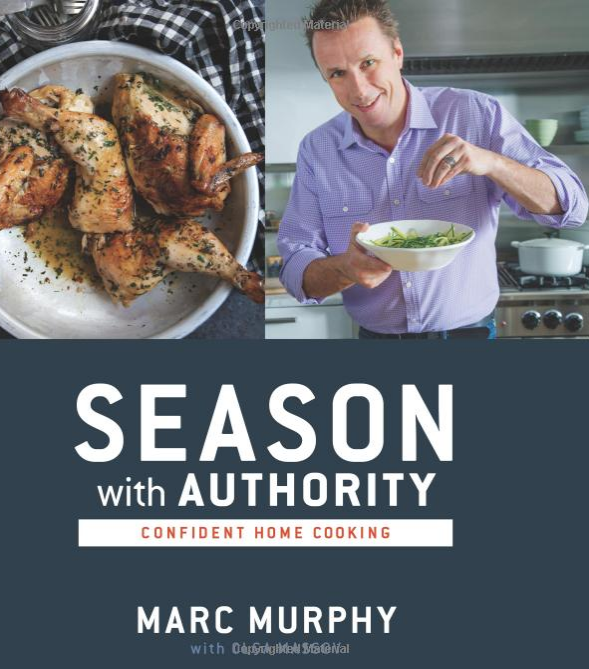 Season with Authority: Confident Home Cooking
By Marc Murphy
with Olga Massov
Over 130 comfort food classics revisited by Chopped judge and one of New York's favorite chefs
Marc Murphy has been cooking in the finest kitchens in the world for nearly 30 years. Now, the chef and owner of four popular New York City restaurants, and regular judge on Food Network's top-rated show Chopped, has finally written his first cookbook. In Season with Authority, Murphy's dishes are without pretense and the recipes are perfect for the home cook. Murphy presents his favorite recipes using simple methods that produce extraordinary results. There are comfort foods such as Spaghetti alla Carbonara, Smoked Mozzarella and Ricotta Fritters, and Pain Perdu, along with best-ever versions of familiar dishes like the "Everything Bagel" Cured Salmon with Dill Slaw, Deviled Eggs with Fried Oysters, and his award-winning Big Marc Burger. Murphy also includes recipes for staples that elevate cooking to the next level, like Sherry Shallot Vinaigrette, Homemade Ricotta, and Pesto Genovese. These are recipes that home cooks will turn to again and again and are sure to impress.
Click here to order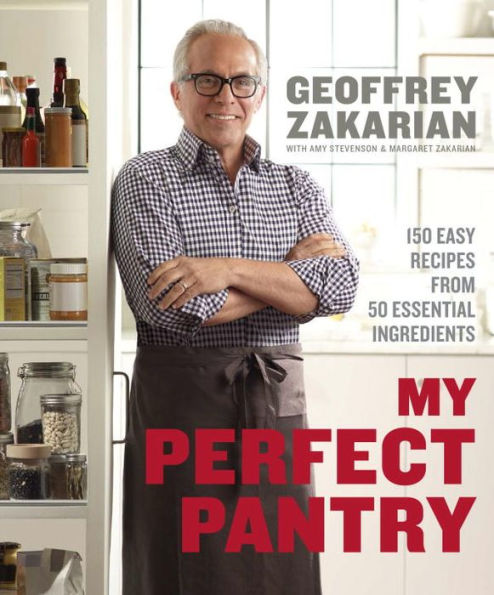 My Perfect Pantry
By Geoffrey Zakarian
Chef, restaurateur, and Food Network Iron Chef Geoffrey Zakarian shows you how to use your pantry to jumpstart any meal.
Forget exotic condiments and specialty foods. With a working base of 50 readily available ingredients, from oats and honey to almonds and canned chickpeas, you will always have the makings of a delicious home-cooked meal. Whether cooking in his world-class restaurants, on Iron Chef, or judging the offerings on Chopped, Geoffrey knows every great meal starts with a trip to the pantry first for inspiration. And when you bring home your fresh produce and proteins, you'll have 150 recipes at the ready, and many of these can be made with pantry ingredients alone.
You'll see a simple can of beans as a Smoky Black Bean Bisque or coconut milk as Spicy Coconut Tempura Shrimp. Standard back-of-the-cupboard fare like almonds become crispy crust on a broiled pork chop; peanut butter lends itself beautifully to a spicy slaw, cider vinegar gives great flavor to a chicken main as well as to donuts, and mustard transforms a a pot roast. Throughout, you'll find quick but ingenious tips for each of the 50 ingredients, like how to use Earl Grey teabags to infuse ice cubes or a syrup for French toast.
The Perfect Pantry makes it so easy for your everyday staples to lead, rather than support, the creation of extraordinary meals. Geoffrey gives you the shopping list you need, as well as the road map for making the most of what you have on hand.
Click here to order or click here to order a signed copy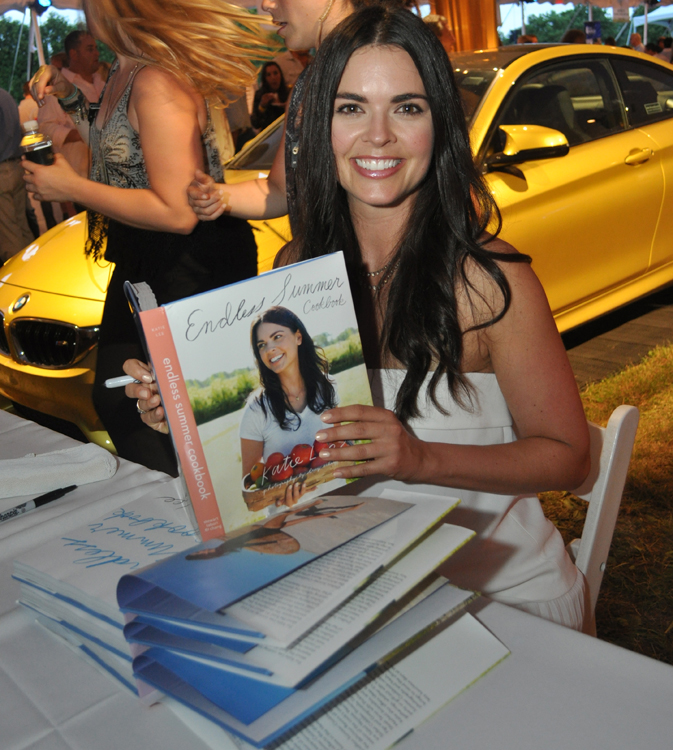 Endless Summer Cookbook
By Katie Lee
Katie Lee — co-host of Food Network's The Kitchen — is known for her summer soirees, and in Endless Summer Cookbook, she shares more than 100 recipes that are staples at these parties. As Chef Bobby Flay can attest, "the recipes are as mouthwatering as they look."
For Katie, cooking isn't just about the food. It's about the whole experience: the atmosphere, the stories that each ingredient tells, and, of course, the people who share the meal. Katie's vision of a complete entertaining experience continues with Endless Summer Cookbook—where the cooking reflects the distinctive flavors of her home in the Hamptons.
From photography to design to the recipes themselves, Endless Summer Cookbook evokes the delicious flavors of the best season of the cook's year. Included are salad Niçoise, peach blueberry cobbler, figs wrapped in prosciutto, a pizza thrown onto the grill, steak tacos served with avocado and fresh cilantro, and much, much more. Katie also offers ideas for wine pairing and easy entertaining. Endless Summer Cookbook—with its stunning photography and fresh, easy recipes—brings to mind the ultimate summer fantasy of lazy, luxurious days at the beach.
Click here to order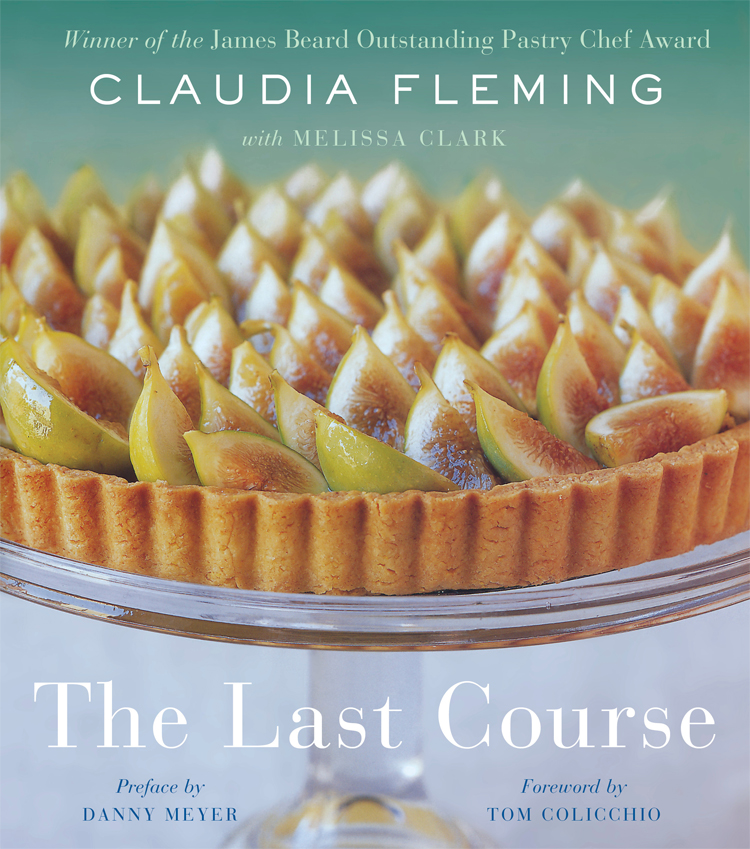 The Last Course
By Claudia Fleming
The Last Course is a timeless, one-of-a-kind collection filled with original recipes that will inspire dessert enthusiasts for years to come.
The Last Course contains 175 of renowned Chef Claudia Fleming's mouthwatering, award winning recipes – including Raspberry–Lemon Verbena Meringue Cake, Blueberry–Cream Cheese Tarts with Graham Cracker Crust, Cherry Cheesecake Tart with a Red Wine Glaze, Concord Grape Sorbet, Apple Tarte Tatin, Chestnut Soufflés with Armagnac-Nutmeg Custard Sauce, Buttermilk Panna Cotta with Sauternes Gelée, Warm Chocolate Ganache Cakes, and more.
Recipes are organized seasonally by fruits, vegetables, nuts, herbs and flowers, spices, sweet essences, dairy, and chocolate. Fleming also suggests how to combine and assemble desserts from the book to create the ultimate composed desserts, as well as offering wine pairing suggestions.

Click here to order or click here to order a personalized copy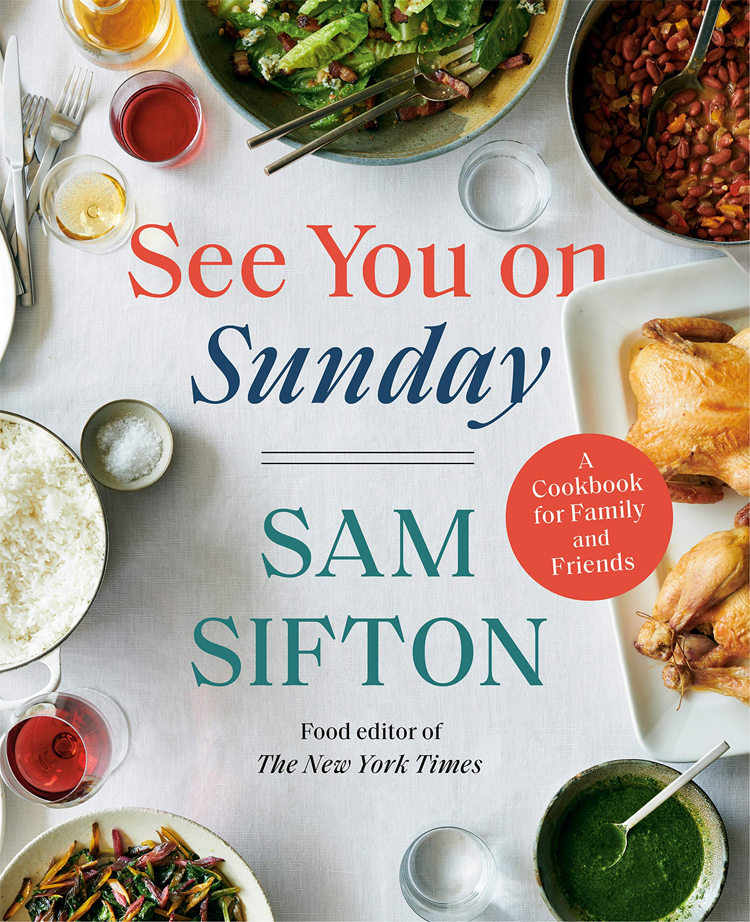 See You on Sunday: A Cookbook for Family and Friends
By Sam Sifton's
From renowned NY Times Food Editor, Sam Sifton's third book – See You on Sunday: A Cookbook for Family and Friends:
We gathered in Maine to eat off a wood stove, and in Florida to pick at grouper or trout as the sun fell into the Gulf. We cooked on roofs, in yards, in kitchens small and dingy, large and luxe, and beneath fluorescents in a narrow Brooklyn parish-hall galley, to feed groups of twenty, thirty, more. We cooked for family, real and imagined, informally, formally, somewhere between the two. We cooked for friends who were happy or troubled, for people in programs that had them floating a line between the two.
The point was to cook or, more accurate, the point was to gather around a table with family and eat, and to do that regularly enough that people knew it was happening, could depend on it somehow, this consistency in a world that doesn't offer a lot of that outside of work and pain. Sunday dinner. Sunday supper.
Word got around. And the calls or texts would start coming: "There dinner on Sunday?"
Yes. See you then. Bring wine or a cake, a friend, some flowers, nothing at all.
People are lonely. They want to be a part of something, even when they can't identify that longing as a need. They show up. Feed them. It isn't much more complicated than that. The point of Sunday dinner is just to have it. Even if you don't particularly like entertaining, there is great pleasure to be had in cooking for others, and great pleasure to be taken from the experience of gathering to eat with others. Sunday dinner isn't a dinner party. It is not entertainment. It is just a fact, like a standing meeting or a regular touch football game in the park. It makes life a little better, almost every time.
Click here to order